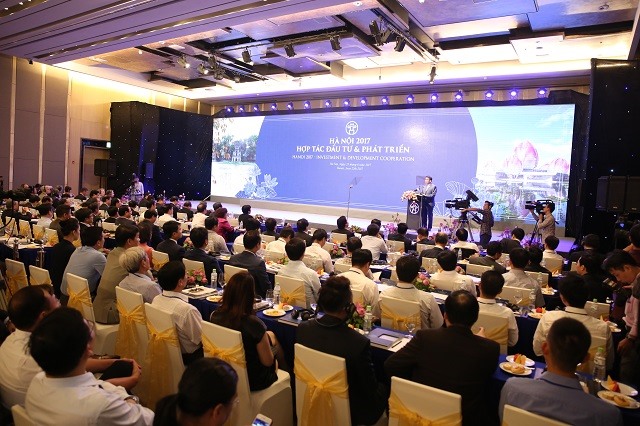 A Hà Nội conference will be held this week to discuss joint projects, regional connectivity and Hà Nội's leading role in steering development in other regions. — Photo kinhtedothi.vn
Viet Nam News
HÀ NỘI — More than 1,500 delegates, including authority leaders, representatives of international organisations and diplomatic agencies, investors and businesses are expected to attend an investment conference in the capital.
The "Hà Nội 2018---Cooperation, Investment and Development" conference is scheduled on June 17, vice director of the Department of Information and Communication of Hà Nội, Nguyễn Minh Khánh, said at a press conference of the Hà Nội Party Committee on Tuesday.
At the conference, leaders of various ministries, sectors, industries and localitiesas well as businesses will work together to seek investment for Hà Nội. They will also discuss joint projects, regional connectivity and Hà Nội's leading role in steering development in other regions.
The capital city will review its cooperation outcomes with other provinces and cities in 2016 and 2017 and will introduce key goals and projects calling for investment in the 2018-20 period in Hà Nội and other provinces and cities in the region.
At the conference, memorandums of understanding on cooperation in smart city building, tertiary education, high-tech agriculture, healthcare, tourism and environment will be signed and investment certificates will be handed over, while individuals, organisations and local and foreign businesses who have contributed to Hà Nội's socio-economic growth and regional connectivity will be honoured.
Through the conference, Hà Nội authorities will affirm their efforts to unceasingly improve the investment environment in compliance with the international integration process, provide the best optimal conditions for investors and businesses' long-term operations and seek to create connectivity between the city and the key northern economic region, the Hồng (Red) River delta and capital regions. — VNS
Nguồn: vietnamnews.vn